The McCollum Report
A Thank You to Conall McDevitt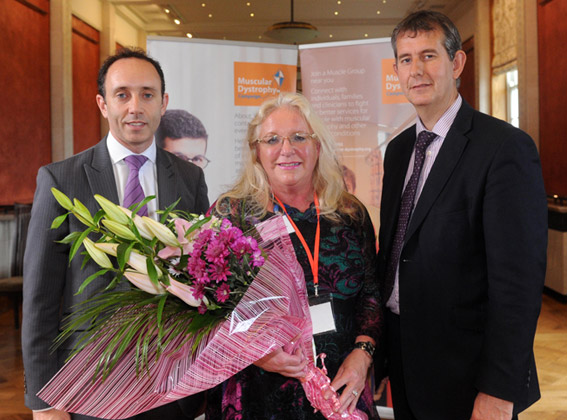 Conall, Geraldine, Edwin Poots at The McCollum Report Launch
We would like to record our thanks to former MLA Conall McDevitt for everything he has done to help improve care and support for EVERYONE in Northern Ireland who has a neuromuscular condition. We first met Conall at a Muscular Dystrophy N.Ireland Council meeting. From the beginning it was very clear Conall understood all the difficulties a family experience coping with someone with a disability and more so the additional pressures they face when their Health Service do not provide the support you need. That day Conall gave us all the belief to continue to campaign for better care and support and assured us he would give us his support.
Along with the Muscular Dystrophy Campaign Conall then helped set up an All Party Group on Muscular Dystrophy at Stormont of which he then became Chairman. This then led to The McCollum Report in July 2012 which contains 15 recommendations. Our hope is to see all these implemented in time and we thank Conall for all his dedicated support and guidance.
We would also like to thank Conall for his many kind words to ourselves and especially the part he played in bringing value and purpose to Christopher's life. We send him and his family our very best wishes for the future.
Health Minister responds to McCollum Report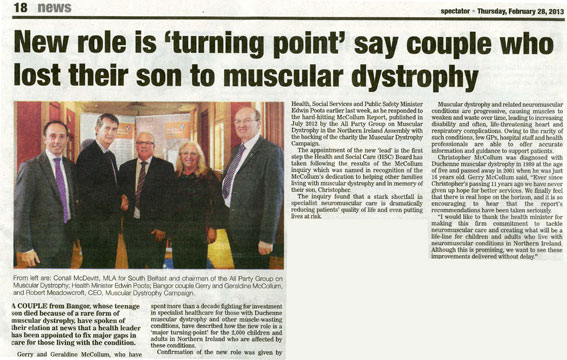 Health Minister Edwin Poots recently responded to The McCollum Report. We are pleased to say he has supported many of the recommendations. Most importantly he has named a Lead Person to coordinate the recommendations to improve care and support for people with neuromuscular conditions in Northern Ireland. This appointment is something we recognised was needed 13 years ago. We are pleased to see Muscular Dystrophy will be embedded into the Health Service.
For further information visit:
21 February 2013 - Campaign success as Northern Ireland neuromuscular lead is appointed
6 March 2013 - Northern Ireland All Party Group analyses McCollum Report response
22 February 2013 - New HSC role is 'turning point' say couple who lost their son to muscular dystrophy
All Party Group Issue McCollum Report
On the 3rd July 2012 in Stormont an All Party Group on Muscular Dystrophy issued 'The McCollum Report – Access to specialist neuromuscular care in Northern Ireland'. The Report, which followed a nine month inquiry, was named in honour of Christopher. One of the aims of our charity is to raise awareness with government on how delays can impact on quality of life and we are pleased The Christopher McCollum Fund is mentioned in the Report.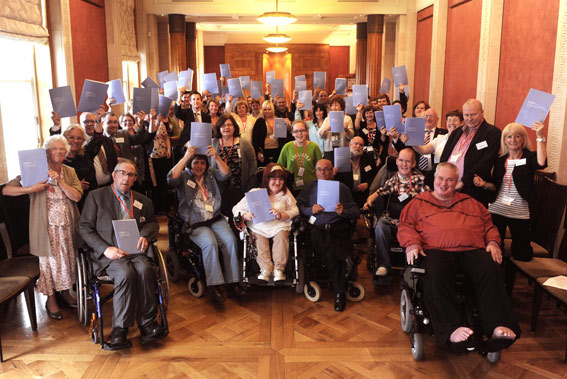 At a debate in the Assembly on the 5th November 2012 MLAs unanimously passed a motion asking the Health Minister to implement the 15 recommendations contained in the Report. We await the Minister's response.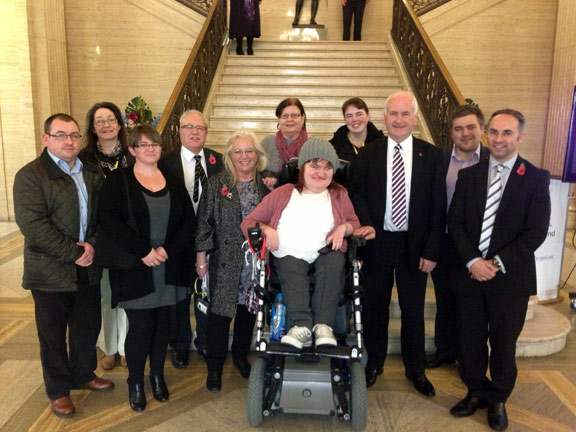 We pay tribute to all the families who attended the Inquiry, the members of the All Party Group, chaired by Conall McDevitt, MLA and in particular the Muscular Dystrophy Campaign in London.
For further information please visit:
27 September 2011 – Major new inquiry launched
3 July 2012 – McCollum Report launched
3 July 2012 - We had to continue to campaign
21 August 2012 - Health Minister commissions response to report
5th November 2012 - Assembly Debate on McCollum Report
Download The McCollum Report (PDF)
UTV News Report