Our Song
A song has the power to evoke a memory of a time, a place, a person.
The song "Shine All Your Light" was written by Beth Nielsen Chapman and Kimmie Rhodes, both from America. The first time we heard it was when Beth sang it in the Grand Opera House Belfast in
March 2008. It immediately evoked memories of Christopher and our life with him.
Despite his difficulties he always did the best that he could.
Beth mentions on her website that she "loves what the song says about the human spirit".
We saw so much of that spirit; not only in Christopher, but in so many other young people
we met with a disability.
Their spirit shines out and is an inspiration to everyone they meet.
We also feel the essence of the song mirrors everything we want our charity to represent.
All of us, in doing our best to help others, can make a difference to someone else's life.
Everyone and everything matters.
Beth and Kimmie have kindly given their permission for the song to play on the website.
We sincerely thank them both for this very kind gesture.
We have since met Beth and Kimmie at their concerts in Belfast. It was wonderful for us to hear them each tell their audience they had donated the song to the charity and then each sang it in memory of Christopher.
Beth's work and music can be accessed at: www.bethnielsenchapman.com
Kimmie's work and music can be accessed at: www.kimmierhodes.com
Our thanks also to James Rollins, Music Publicist and Publicity Agent in Northern Ireland for
Beth and Kimmie, who helped obtain their permission. Thanks also to local singer/songwriter
Kieran Goss who gave us the encouragement to ask Beth and Kimmie.
We recently met Kieran and his wife Ann after their concert in Belfast and their enthusiasm for the charity is a great support to us.
Kieran's work and music can be accessed at: www.kierangoss.com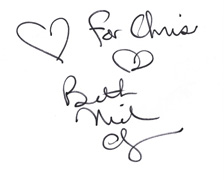 Love for Chris from Beth Nielsen Chapman
16 November 2008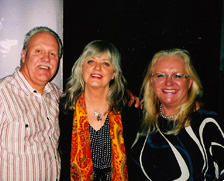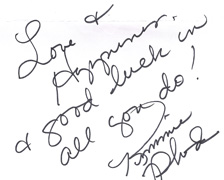 Love + Happiness + Good Luck in all you do! from Kimmie Rhodes, 14 May 2009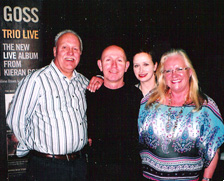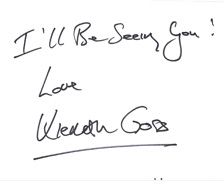 Special Words from Kieran Goss, 28 May 2009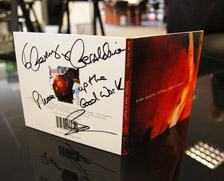 "To Gerry and Geraldine. Please keep up the good work." from Brian Houston
Words of encouragement from Brian Houston, signed on one of Brian's albums. 18 June 2010