Remembering Christopher's
30th in Manchester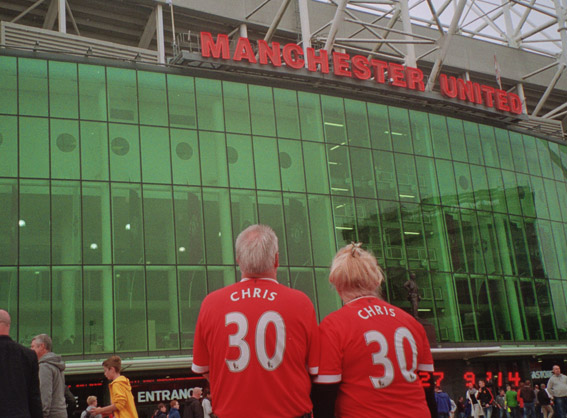 Two special 30th jerseys
We are just back from the UK Aviva Broker Community Fund Awards in London. It was great for the charity to receive this recognition and we will report on that later. Being in London made us think even more about the spirit Christopher showed and how he continues to inspire us. It means so much to see the help the charity has given to other young disabled people as well as the funds raised for research into Duchenne Muscular Dystrophy and we thank everyone for all their support. We were recently in Manchester to mark Christopher's 30th birthday on 23rd September 2014 and thought we would now like to share this with you. Christopher loved being in Manchester and going to see Man Utd so we tried to mark his 30th in a special way both at Old Trafford and The Midland Hotel where he had a
great time in 2000.
Friday 26th September 2014, Old Trafford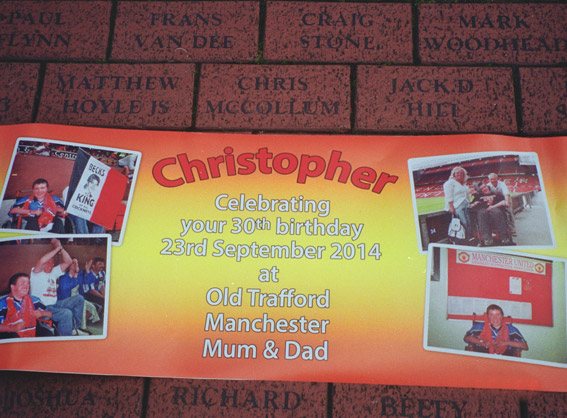 30th Banner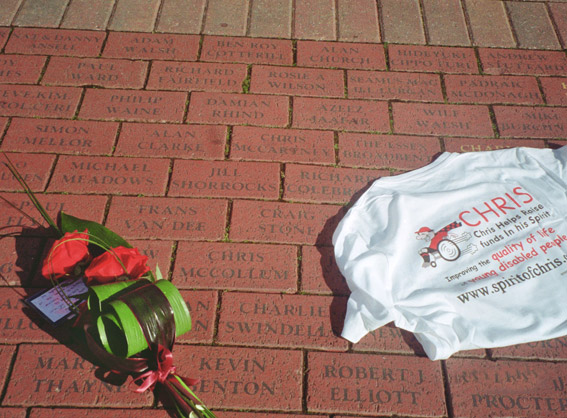 Rose and Charity Tee-shirt
Christopher's name is on a brick at the front of Old Trafford. He got a certificate to tell him it was there but sadly he never got to see it. It is always the first visit we make every time we go to Manchester for a game and to place a floral tribute.
Geraldine and Tony Dawson
Christopher and Gerry in the Disabled Area at Old Trafford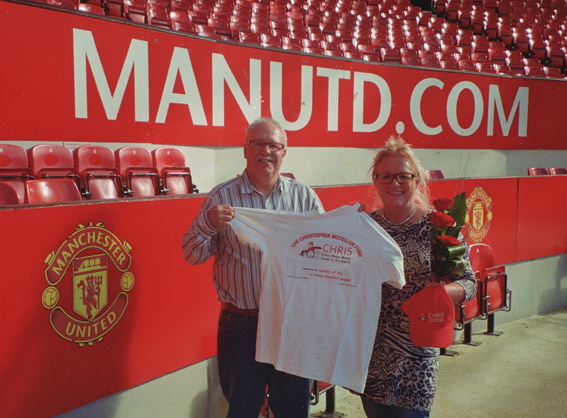 Gerry and Geraldine in disabled area Sept 2014
We were fortunate to meet a lovely man called Tony Dawson who is a Tour Guide at Old Trafford. He kindly got permission for us to go on to the side of the pitch with our floral tribute and also into the Disabled Area as above. We never expected this to happen and it was nice to have a photo taken there again. Many thanks Tony and for taking the photo.
Albert Morgan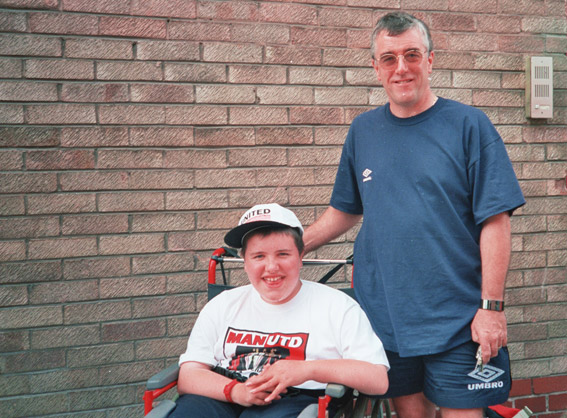 Chris with Albert Morgan - Kit Man at Man Utd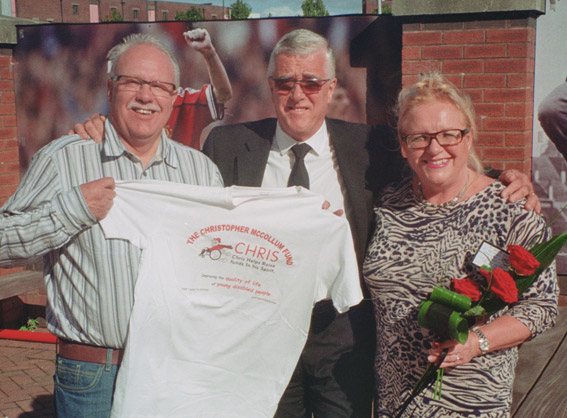 Gerry and Geraldine with Albert Sept 2014
Albert Morgan, who Christopher met several times, was the well known Kit Man at Man Utd for many years and retired at the same time as Sir Alex Ferguson in 2013. On our special visit this year it was lovely when Albert came over to us and gave Geraldine a big hug. It was great to now get a photo with Albert with the charity tee-shirt. Thanks Albert.
Jim Ryan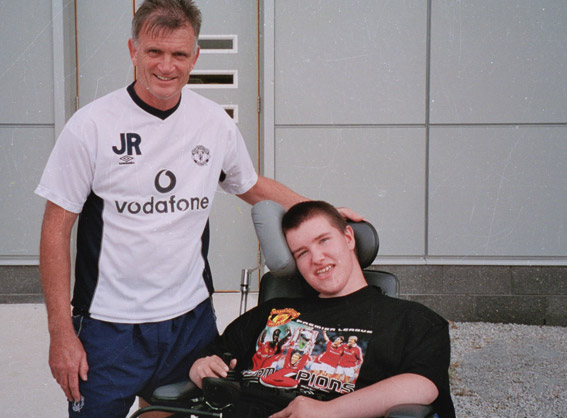 Christopher and Jim Ryan at Carrington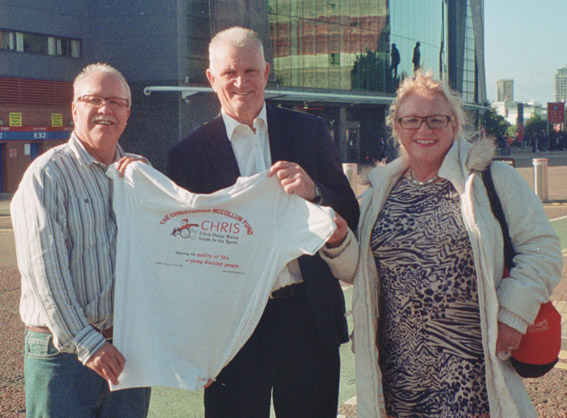 Gerry, Geraldine and Jim Ryan Sept 2014
Jim Ryan, who Christopher met several times, is an ex player, Reserve Team Manager, Assistant Manager to Sir Alex, Director of Youth Team Football all at Man Utd and retired in 2012. It was great for us to see Jim again and get a photo with the charity tee-shirt. Thanks Jim.
Saturday 27th September 2014
Match Day – United V West Ham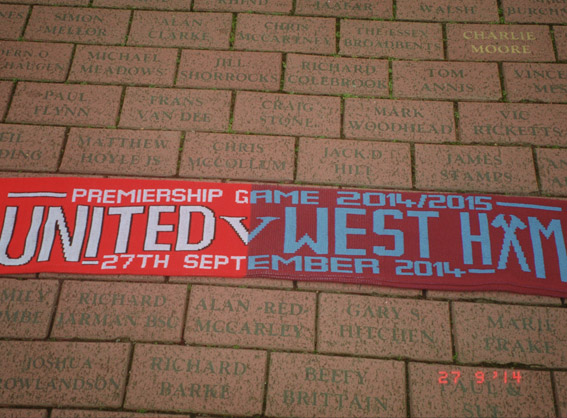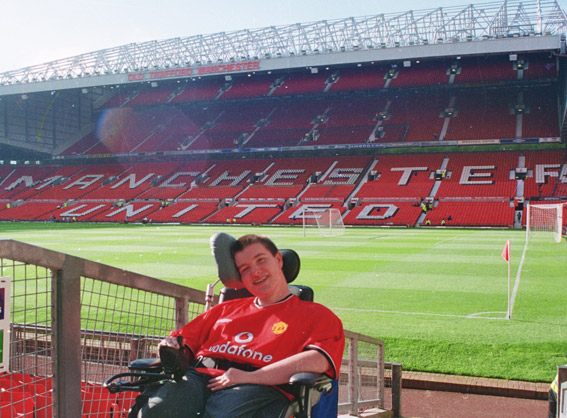 Christopher in 2000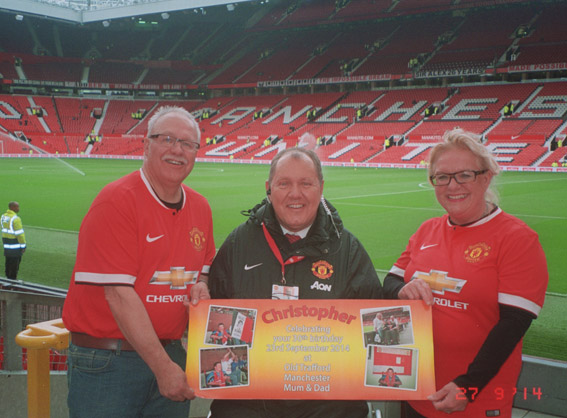 Gerry, Geraldine and Phil Downs
Phil Downs, MBE is the founder of MUDSA (Man Utd Disabled Supporters Association) and is also their Disability Liaison Officer. We always try to meet Phil when we are over at a game. He very kindly agreed to meet us an hour before kick-off and to take us into the Disabled Area with our 30th Banner to get a special photo on the match day. We really appreciated Phil being in the photo with us. Sincere thanks Phil.
The Midland Hotel, Manchester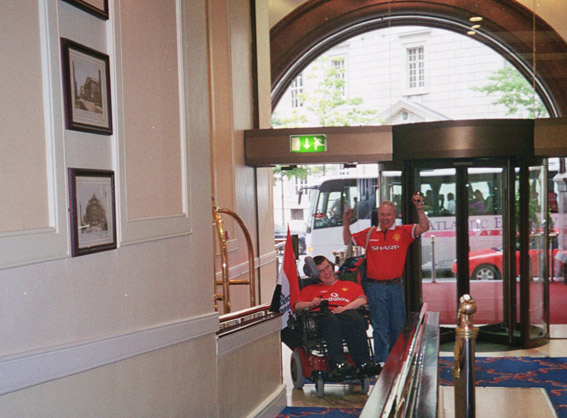 Chris and Gerry arrive back at The Midland after a United win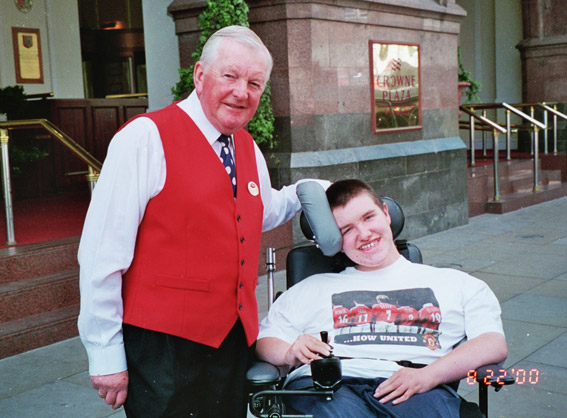 Chris with Kevin the Concierge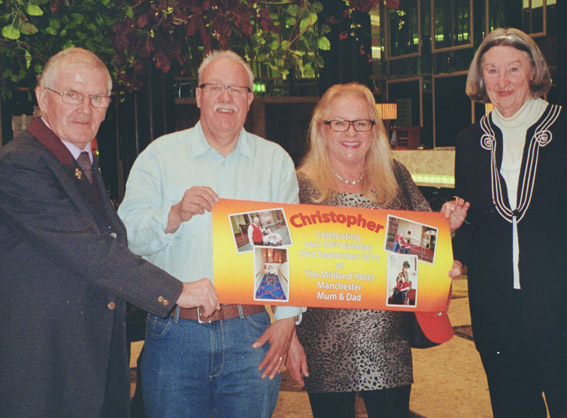 Mike Leibrick, Head Concierge, Gerry, Geraldine and Barbara Frost, Tour Guide
Christopher had a fantastic time in The Midland Hotel in 2000 and the staff were great with him. When we are in Manchester we always call to see the staff who are still working there, however, this year we decided we would stay in the hotel. Kevin, Mike and Barbara are still working there and it was lovely to get a photo with Mike and Barbara with 'The Midland' 30th Banner.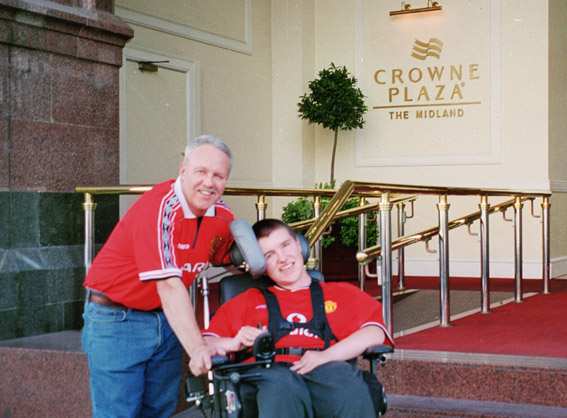 Christopher in 2000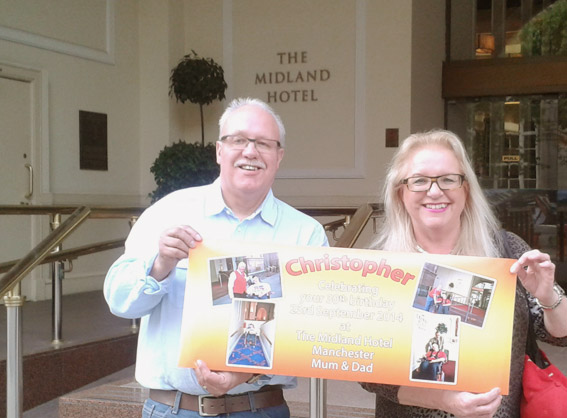 Gerry and Geraldine Sept 2014
This was a memorable photo for Christopher and Gerry taken outside The Midland before going to a United game especially as a few minutes later George Best went into the hotel. Christopher insisted he wanted to meet him and George very kindly came back out again to meet Christopher which was a marvellous gesture. A treasured moment for Christopher and also for Gerry.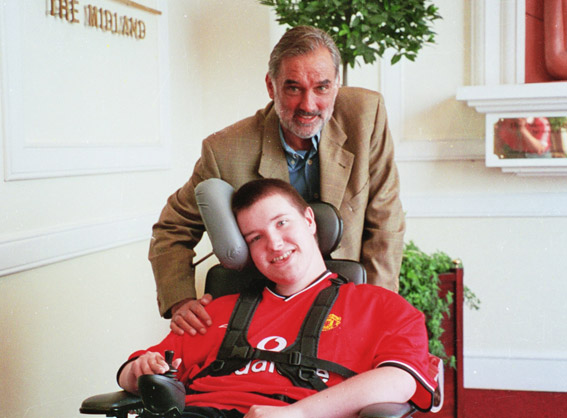 Christopher and George Best August 2000
It was special for us to also place the special 30th jersey under the statue of George Best outside Old Trafford being part of the United Trinity of Best, Law and Charlton.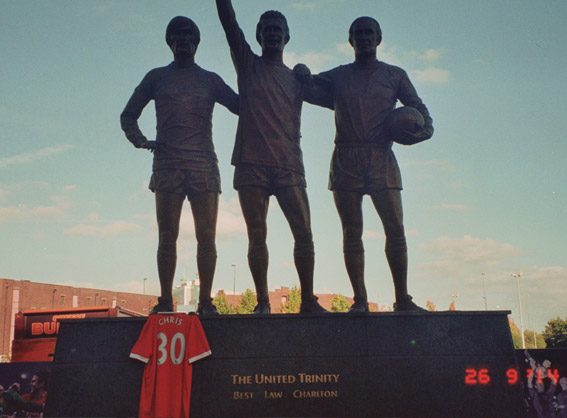 The United Trinity
Thanks to everyone for a memorable two days remembering Christopher's 30th birthday.