Songs for Chris returns
Another Night To Remember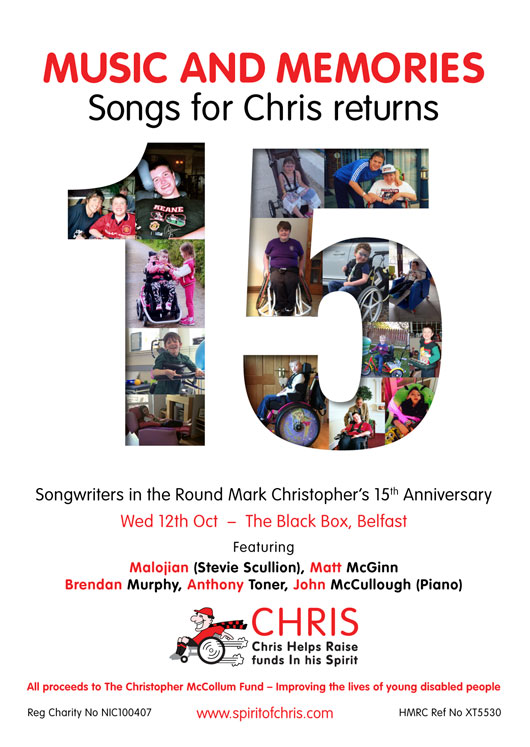 This is just an initial report on Songs for Chris returns at The Black Box last Wednesday night to mark Christopher's 15th anniversary. A further report will follow once we know the amount raised etc. But ....... what another fantastic night it was! Thanks to everyone who came along. The Black Box is an excellent venue and the atmosphere was electric. Once again we were all privileged to witness a "world class" night of original songs, guitar playing, stories and banter from four of Northern Ireland's best songwriters Anthony Toner, Brendan Murphy, Matt McGinn and Stevie Scullion (Malojian), accompanied by the dazzling skills of John McCullough on piano. They were all in great form. Our thanks to each of them for supporting us and giving everyone another night they will not forget. We think it is the first time all five have shared the stage together and we are so lucky in NI to have such talented artists and musicians. As a momento of the evening we gave everyone a copy of the event poster, designed by Anthony, along with a "15" poster as above, which includes some photos of Christopher but more so some of the young people the charity has supported. Thanks to Team Emerald from Halifax Mortgage Sales who sold the raffle tickets which meant that every £ raised will be matched by Halifax Foundation and to Dessie and Maureen Hill who manned the ticket desk as well as counting the raffle money.
Gerry & Geraldine
For an update on the event please visit our Events page